---
Rocky Mountain Custom Walls Inc. – Aurora & Denver, Colorado Custom Wallpaper Coverings
Our Service
 Rocky Mountain Custom Walls Inc. has been servicing the Denver area for more than 30 years, making home after home, and office after office
more beautiful than when it was new. We have more experience in wallpaper than anyone else in the area, so you know you can count on us to take care of all of your wallpaper needs, from stripping to installation. Even if it's an odd wall, we can perform the optimal custom job for you, and get it done quicker and more accurate than the competition.  So, if you want the best possible job done on your walls call us today!
Wallpaper Hanging
Wallpaper Stripping
Wall Repair
Wall Coverings
All forms of Fabric & Vinyl wall coverings
Custom Installation
Upholstered Walls
Historical Restoration
Residential and Commercial
Wallpaper Removal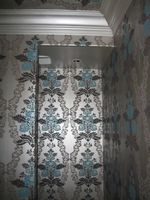 Think about your options before you undertake the task of removal.
Should you decide to do it yourself, if the walls get torn or severely gouged please do yourself a favor and STOP. Scoring tools in inexperienced hands can result in severe wall damage. Damage to your walls can cost more to repair than had a pro been hired to do the removal job.
If your walls were properly prepped and primed before wallpaper installation then DIY may be possible without damage to your wall surfaces If you take the right steps, use products that work, and are very patient. Without proper wall prep it is another story and it takes experience and judgment to know how to best proceed. We strongly advise that you hire a professional for removal services. We prepare your walls for a fresh, new look.